About FamiliesAndSocieties
Main objectives
To investigate the diversity of family forms, relationships, and life courses in Europe
To assess the compatibility of existing policies to family changes
To contribute to evidence-based policy-making
Our overall conceptual framework
is based on three key premises
Family life courses are becoming more diverse.
The interdependency of lives matters.
Social contexts and policies matter.
Building upon these premises we
Explore the growing complexity of family
configurations and transitions.
Examine their implications for men, women
and children with respect to inequalities
in life chances, intergenerational relations
and care arrangements.
Investigate how policies address family diversity.
Develop short- and longer-term projections.
Identify future policy needs.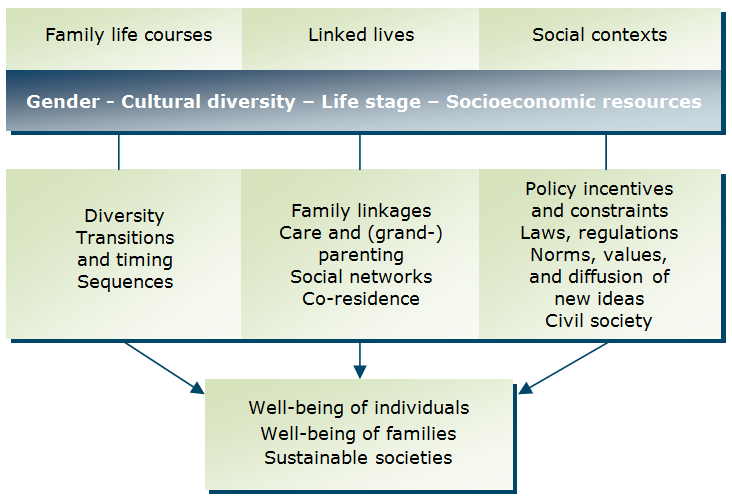 Conceptual framework:
Social processes and social structures 
shaping inequalities and social well-being
Transversal dimensions
Four transversal dimensions are embedded in the conceptual framework:
Gender
Culture  (ethnic and cultural identities, sexual orientation)
Socioeconomic resources
Life stages
The interactions between these transversals with the fundamental processes shape the outcomes of the diversification of family life courses for individuals and societies; (re-)produce inequalities across the life course and across generations; and shape the policy responses that are appropriate in order to promote positive objectives.
Our work is organized in 12 work packages. Read more